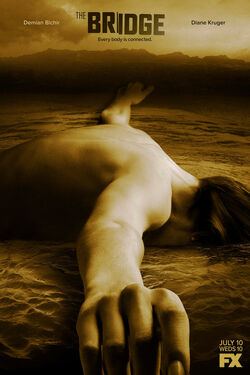 The Bridge
is a present-day crime thriller exploring the tensions on the U.S.-Mexico border. When an American judge known for her anti-immigration views is found dead on the bridge connecting El Paso and Juarez,
Sonya Cross
(
Diane Kruger
) from El Paso P.D. must work with her Mexican counterpart from Chihuahua State Police,
Marco Ruiz
(
Demian Bichir
), to catch a serial killer operating on both sides of the border. Marco understands the slippery politics of Mexican law enforcement, and while his police force slowly succumbs to the pressures and demands of the cartel, he's one of the last good men in the department. He's charming, but also cunning as he will do whatever it takes to get what he needs. This does not sit well with Sonya, who has Asperger's and strictly follows rules as well as protocol. Her candid and off-putting personality fuels an unforgiving drive for truth. The case quickly pulls them into a string of murders on the border, a scene already consumed by illegal immigration, drug trafficking, violence and prostitution.
[1]
References
Edit
Ad blocker interference detected!
Wikia is a free-to-use site that makes money from advertising. We have a modified experience for viewers using ad blockers

Wikia is not accessible if you've made further modifications. Remove the custom ad blocker rule(s) and the page will load as expected.