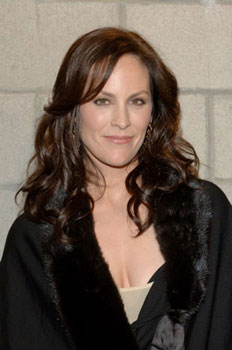 Annabeth Gish (
Charlotte Millright
) is a uniquely gifted and beloved actress with a diverse background in film and television dating back well over 20 years. She currently recurs on the hit ABC Family series Pretty Little Liars as 'Dr. Anne Sullivan.' In 2012, she co-starred opposite Pierce Brosnan in Stephen King's Bag of Bones miniseries for A&E.
Gish first gained the attention of critics and moviegoers at the age of 13 in the feature film Desert Bloom. She went on to star in the acclaimed feature Mystic Pizza opposite Julia Roberts. Her expansive list of film credits include Double Jeopardy, the Sundance Film Festival darling SLC Punk; Wyatt Earp; Nixon; Beautiful Girls; The Last Supper; Coup de Ville; Shag; Steel; and the independent film Knots. Other film credits include a starring role in Buying the Cow; Race to Space with James Woods; the independent feature film Pursuit of Happiness; Morning and the feature film adaptation of bestseller The Celestine Prophecy.
Also well known to television audiences, Gish's television credits include the hit series The West Wing and The X Files, as well as mini-series and TV movies such as Detective; PBS's Masterpiece Theater classic A Death in the Family; Sealed with a Kiss; Different; God's New Plan; To Live Again; What Love Sees; Someone You Know; The Way She Moves; Scarlett; and True Women, opposite Dana Delaney and Angelina Jolie. She starred to great critical acclaim in the award-winning Showtime series Brotherhood. In addition Gish also starred in the miniseries adaptation of Stephen King's novel Desperation and Hallmark Hall of Fame's critically acclaimed Candles on Bay Street City.[1]
References
Edit